Political deadlock over the House speakership has left lawmakers in the chamber without access to classified information, prompting warnings from some members that they are unable to oversee the work of intelligence agencies and the U.S. military.
Without agreement on the next speaker, House members have not been sworn in, committees have not been set up and lawmakers cannot receive classified briefings in secure rooms.
But even as the House remained at a standstill, current and former congressional staffers from both parties said warnings of a national security threat were overstated. The military, the intelligence community and the rest of the executive branch continue to operate despite the protracted fight in the House, the Senate is still able to play an oversight role on national security issues, and House staff members with security clearances remain in contact with intelligence agencies, they said.
"There are some very talented staff members down there, they will continue to get briefed by the intelligence community and will be monitoring things on a daily basis," said Tim Bergreen, who worked as staff director of the House Intelligence Committee and chief of staff to Rep. Adam Schiff, D-Calif., a former committee chair.
Even when a House speaker is selected without delay, it usually takes several weeks before the House Intelligence Committee is named and ready to start its work, said Bergreen, now a partner at the law firm of Hogan Lovells.
Members of Congress are usually not informed about sensitive military or intelligence operations until after an action is carried out, Bergreen and other experts said. In rare cases, lawmakers are briefed on a "ripening situation" in advance and members can weigh in to possibly influence decision-making in the White House, he said.
Classified briefings on the most sensitive intelligence matters and operations are held for the so-called Gang of Eight on Capitol Hill, which includes the party leaders of both chambers as well as the chairs and ranking members of the intelligence committees.
At the moment, it's not clear who on the House side would take part in such a briefing.
Rep. Brian Fitzpatrick, R-Pa., who served on the House Intelligence Committee during the previous Congress, told reporters he is "very concerned" about security threats while the House remains offline.
"I'm very worried about it," said Fitzpatrick, a close ally of Rep. Kevin McCarthy of California, who has struggled to secure enough Republican votes to become House speaker after a series of ballots this week.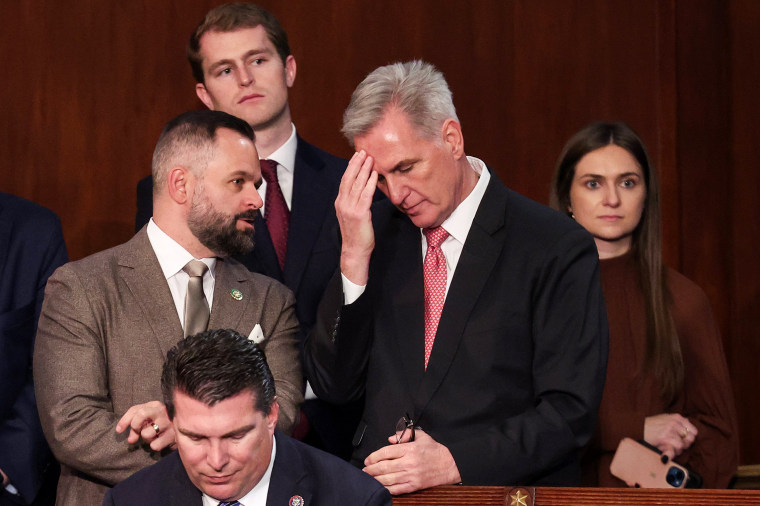 "I sit on the House Intelligence Committee. We are not authorized to meet right now. We have oversight over all 19 intelligence agencies responsible for the national security apparatus of our nation, and we can't meet to oversee these agencies," Fitzpatrick said.
"So come hell or high water, we have to resolve this situation one way or another."
House Democratic leader Rep. Hakeem Jeffries of New York said the political infighting created a risk for the country.
"There are national security vulnerabilities. This is a dangerous moment for Americans and for the world — one of the reasons why the Congress needs to organize," Jeffries said.
Rep. Raja Krishnamoorthi, D-Ill., a member of the House Intelligence Committee in the last Congress, said government officials often "seek input and approval" from lawmakers on national security matters. "When there's no HPSCI (House Permanent Select Committee on Intelligence), we really hamper the work of guarding our national security," he said.
A congressional staffer familiar with national security briefings played down the possible risk from the House turmoil. "This is overblown. How often does the House leave for weeks at a time? And of course, the Senate is still capable of receiving such briefings," the staffer said.
Rep. Mike Gallagher, R-Wis., said a meeting that he and Rep. Don Bacon, R-Neb., had scheduled with the chairman of the Joint Chiefs, Gen. Mark Milley, had to be canceled because it was scheduled to occur in a secure room and would likely include classified information.
"Bacon and I were supposed to be meeting with the chairman of the Joint Chiefs in the SCIF [sensitive compartmented information facility] here to talk about matters in the Indo-Pacific. But I'm informed by House security that technically, I don't have a clearance," Gallagher said Wednesday.
"My point is, we have work to do that we can't do right now," said Gallagher, who has served on the House intelligence and armed services committees.
Two defense officials confirmed that Milley was scheduled to attend a meeting with the members of Congress to discuss China and issues in the Asia Pacific region. The discussion had been scheduled for several weeks, the officials said, in part to brief Gallagher as part of his role as the incoming chairman of the Select Committee on China. The briefing did not necessarily have to take place in a secure facility, but having it in another location would limit the information that Milley and his staff could share with the members of Congress and even limit what materials they could bring with them, the officials said. 
Gallagher's office canceled the meeting, according to the Defense officials. 
Members of Congress do not require security clearances but are granted access to classified information if they are members of relevant committees and sign an Oath for Access to Classified Information. Some classified briefings are also held for all members.
Republican Rep. Mike McCaul of Texas, a supporter of McCarthy's bid for speaker who is expected to serve as the next chairman of the House Foreign Affairs Committee, said the paralysis in the House had disrupted "everything," including "meetings, hearings, classified briefings."
Without being sworn in to the new Congress yet, "I'm not even a congressman," he added.
Rep. Jason Crow, a Colorado Democrat who has served on the House intelligence and armed services committees, said he was not able to enter the White House on Wednesday as swiftly as he usually does. Because he is not sworn in, Crow had to produce his driver's license. After 15 minutes, Crow was eventually allowed in after security checks were carried out, he said.
Crow laughed about the incident but said he was concerned that the stalemate in Congress was undermining the House's responsibility to track intelligence agencies and the armed services.
"We are very much in a gray zone right now. It's not fun. It's not funny. The American people deserve better," Crow said.
"If this goes for weeks, that's a compounding problem that makes it much more difficult to do the oversight and do the hearings we need to have," he said.
Saying there was no time to waste when it came to U.S. efforts to counter the threat posed by China, Crow said, "We oversee programs that the rest of Congress does not have access to."