Ukraine is accusing Russia of striking deep inside its territory with what it says are Iranian-made "kamikaze" drones as Moscow's troops are facing mounting setbacks on the battlefield.
Ukrainian officials said Wednesday that Russia used drones "of the Shahed-136 type" to target the town of Bila Tserkva, just 50 miles south of Kyiv, injuring one person and destroying several buildings.
Ukraine has been sounding the alarm about Russia's increasing use of drones, which it says are being supplied by Tehran, to hit cities far behind the front lines for weeks, but Wednesday's attack is the closest to the country's capital and poses a new challenge to the Ukrainian military. 
Ukraine's Defense Ministry first reported the use of what it said was a Shahed-136 drone last month during its blistering counteroffensive in the country's northeast. 
Since then, Ukraine's air force command reported that Shahed-136 drones were used to launch attacks on the southern cities of Odesa and Mykolaiv. After the attack on Bila Tserkva on Wednesday, the ministry reported shooting down nine more of the drones in the country's south. It shared an image of the drone's wreckage, which appears to have Russian writing on it. NBC News wasn't able to verify if the drone in the image was indeed a Shahed-136 or any other drone produced in Iran.
Military experts say it's difficult to say for sure whether the drones in the images supplied by Ukraine are in fact Shahed-136. But the drone's wingtip and overall shape match those seen in videos available from Iranian military exercises, said Michael A. Horowitz, a geopolitical and security analyst, and head of intelligence at Le Beck consultancy. 
"That's no conclusive proof, but it's as close as we can get from an open-source point of view," he said.
The drone, which has earned the nickname "kamikaze" for destroying its target by physically crashing into it, can be equipped with a small warhead, making it an effective precision weapon, said Christopher Tuck, an expert in conflict and security at King's College London.
Its operational range is subject to debate among analysts, he said, but could be as long as 1,200 miles, although it's probably much shorter in practice. 
"It's still sufficient to hit any target in Ukraine from Russian-occupied areas," Tuck said.
Both Washington and Kyiv have accused Tehran of supplying the drones to Moscow to be used in Ukraine, but Iran has denied the accusations. 
"The Islamic Republic of Iran considers news published on the delivery of drones to Russia for use in the Ukraine war as baseless and does not confirm it," its Foreign Ministry spokesman said Tuesday. 
The Kremlin has not commented on the recent use of Iranian-made drones in Ukraine, but its spokesman, Dmitry Peskov, has previously called speculation that Iran was supplying drones to Russia for use in Ukraine a "hoax."
The increase in drone attacks comes as Russian forces have been on the retreat in Ukraine, with Moscow struggling to bolster President Vladimir Putin's flagging military campaign.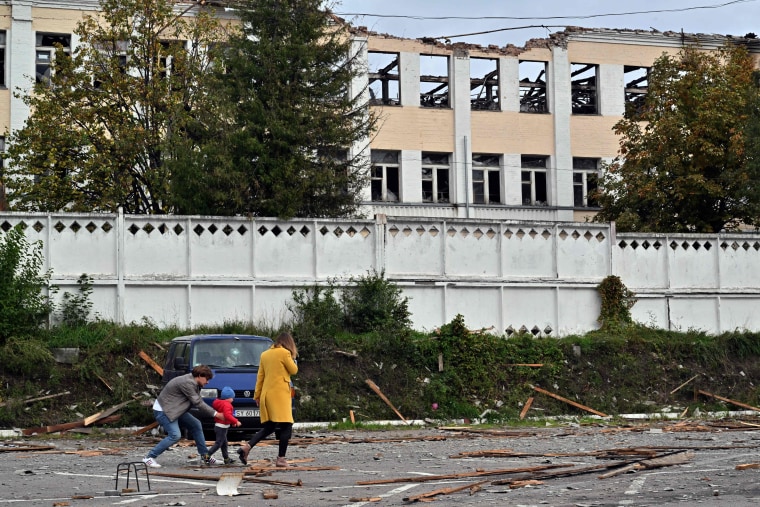 Several analysts told NBC News it's logical for Russia to use this type of drone in Ukraine to improve its capacity for precise medium-range strikes as it's running out of more conventional precision-guided munitions, and Ukraine will need more anti-aircraft systems and aircraft to effectively counter the drones.
"This is a new threat for all the defense forces (of Ukraine), and we need to use all available means to try to counter it," Ukrainian air force spokesman Yuriy Ihnat said after the attack on Bila Tserkva on Wednesday. 
But while the drones are a challenge for Ukraine, they are not game changing, Tuck said. 
As single-use weapons, they can get used up very quickly, he added. They are also low-tech, have reliability problems, and are open to effective countermeasures, including jamming. 
"At the same time, the drones are being forced to substitute for other capabilities, including precision artillery strike, that Russia is short of," Tuck said. "Fundamentally, they are a Band-Aid solution to deeper Russian military weakness."